Meet the finalists for The Nigeria Prize for Difference and Diversity
Have you met these fifteen Nigerians creating safe spaces and promoting difference in the country?
Meet the 15 finalists…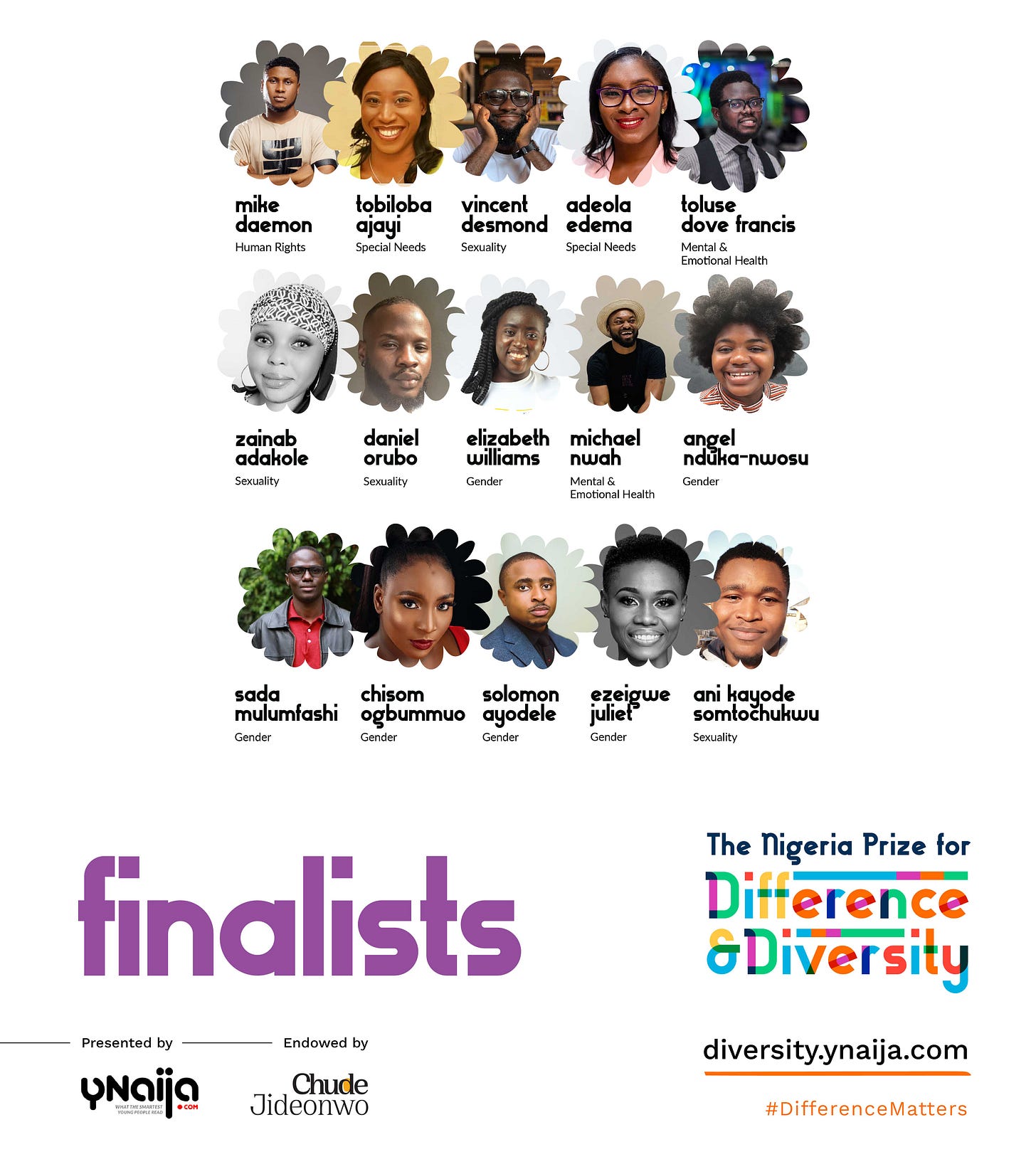 The Nigeria Prize for Difference and Diversity was launched in June 2020 to find, recognize and support individuals, communities, and organizations creating safe spaces for diversity, inclusion, and equality across these areas: Gender, Sexuality, Spirituality, Art, Human rights, Special needs, and Mental and emotional health.

We happily announced the finalists for the maiden edition of The Nigeria Prize for Difference and Diversity. They are:

Adelola Edema (Autism educator)
Angel Nduka-Nwosu (Cofounder, As Equals Africa)
Ani Kayode Somtochukwu (Queer liberation activist)
Chisom Ogbummuo (Founder, The Conversation Café)
Daniel Orubo (Senior Editor, Zikoko.com)
Elizabeth Talatu Williams (Executive Director, Sustainable Impact and Development Initiative)
Ezeigwe Juliet Chioma (Filmmaker and gender equality advocate)
Michael Nwah Ernest (Emotional & mental wellness/Yoga coach)
Mike Daemon (Human Rights advocate)
Oluwatobiloba Ajayi (Founder, Let Cerebral Palsy Kids Learn Foundation)
Sada Malumfashi (Human Rights activist and journalist)
Solomon Ayodele (Founder, Boys Quarters Africa)
Toluse Dove Francis (Therapist)
Vincent Desmond (Editor in chief of ANastyBoy.com)
Zainab Adakole (Women and girl child activist)
---
Winner to be announced on December 10
The winner of The Nigeria Prize for Difference and Diversity will be announced on December 10 to commemorate World Human Rights Day. The winner will receive N1 million endowed by Chude Jideonwo (co-founder Joy, Inc. and host, #WithChude) who has been at the forefront of diversity and difference storytelling and activism across the continent.
---
One Week Fellowship
We hosted the 15 finalists to a week-long virtual Fellowship from October 12-17, 2020. The week-long fellowship was a safe space to meet one another and other experts.

Facilitators at the Fellowship are Olumide Makanjuola, Kiki Mordi, Busola Dakolo, Fu'ad Lawal, Ayodeji Osowobi, Othuke Ominiabohs, Jude Udo Ilo, Gbenga Sesan and Ayisha Osori. Other facilitators include Seun Onigbinde, Walter Ude, Aisha Yesufu, Edwin Okolo and Chude Jideonwo. The workshop was co-hosted by Shola Bamidele and Damola Morenikeji.

We are honoured to have a distinguished set of Jury and Advisory Council (from across 4 continents). The experience of people working to ensure diversity and inclusion in countries including Kenya, the United States, Japan, the UAE and others will be invaluable as this work accelerates.

The Nigeria Prize for Difference and Diversity is co-presented by The Future Project and human flourishing company, Joy, Inc. which is building safe and warm spaces across business, government, and culture.